Optical Coating Company

Custom designed E-Beam and automated Ion-Assisted coating process technologies
Thin film optical coating department
With electron beam and automated ion-assisted coating process technologies, PFG is able to offer an extensive range of thin film coatings – anti-reflective, broad-band AR, short and long wavepass filters, optical beam splitter, polarizers and high reflectors, both dielectric and enhanced metallic coatings. We use FilmStar design and characterization software to create customized coatings. Multiple optimization techniques ensure the coatings meet/exceed specifications. Custom programs allow us to analyze coating sensitivity, production yields, total coating thickness, the time required to produce the coating and to the estimated change in surface figure post-coat.
Optical Facility tour
We clean and inspect our optics in a class 1000 clean room and under laminar airflow hoods with particle counts typically less than 10 (of ½ micron or larger) and use other techniques to produce absolute pristine surfaces. We understand the criticality of surface roughness, surface cosmetics, cleaning methods and materials, and ambient conditions. We aim to ensure that our process technology and execution satisfy the spectral, mechanical, environmental, and laser damage requirements of customer coatings.
Thin film coating options
PFG uses E-beam technology for many of our thin-film coatings because this method is typically faster and less expensive than alternative methods on the market. For thin film coatings at lower wavelengths, using E-beam technology allows PFG to produce optics with some of the highest laser damage certifications and longest lifetimes in the industry. However, we have ion-assisted deposition (IAD) which can achieve performance similar to ion beam sputtering (IBS), but at a more affordable cost.
Thin Film Coatings – Including, but Not Limited To:
Diameter (mm)
Anti-Reflective (AR)
Broad-band AR
Short and Long Wavepass Filters
Beamsplitters
Polarizers
Non-Polarizing
High Reflectors
Enhanced Metallic
High Laser Damage
Indium Tin Oxide (ITO)
Optical tolerance chart
Review our standard and best tolerances. However, if these don't perfectly fit your needs, please reach out to us so we can discuss what we can do for you.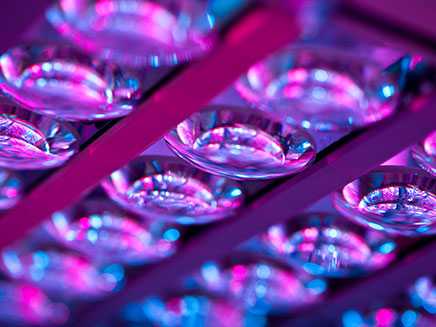 Custom thin film coatings testings
For spectral measurements from UV to NIR, we use Lambda 9, Lambda 900, and Lambda 1050 Perkin Elmer spectrophotometers. For IR spectral measurements, we use a Perkin Elmer 983. Coating charts and witness samples are routinely supplied.
We also have in house capabilities to test our coatings for:
Abrasion
Adhesion
Humidity
Salt Spray
Temperature
Order your precision optics today

US manufacturer of high precision optical components (UV thru mid-IR) with a multi-decade track record of reliably producing quality commercial and military optics. Capabilities include spherical – doublets/triplets – and flat optics – prisms, wedges, beamsplitters, polarizers, filters, and mirrors. Our in-house coating facility offers a wide variety of custom coatings, including high power laser coatings, ITO, and high durability ARs.